To hold the fertilizer efficiently is as important as using it. There are certain things to know about them. Let's start the journey by understanding what it is!
What are Fertilizer bags? 
One can use Burlap, plastic, cloth and other materials to make fertilizer bags. Numerous factors influence material selection. These factors include material availability, environmental concerns, fertilizer type, customer preferences, cost, etc. Plastic bags and burlap sacks are currently the most popular fertilizer packaging options. People have been using Burlap sacks for a long time now. The use of plastic bags is increasing. Plastic bags are superior to burlap bags for various reasons:
It looks better looking than burlap sacks. 
They don't even chemically react with fertilizers.
They are environmentally friendly. 
Customize them to match the requirements of manufacturers or customers.
Even though plastic bags entice many manufacturers, inertia has kept burlap sacks as a popular packaging medium for fertilizers. They've been around for decades. Their use (though drastically reduced) will continue for the foreseeable future. The advantages of using burlap sacks are:
They are sturdy and heavy. 
They offer adequate defence against environmental and physical hazards
They are difficult to break or puncture
Drawbacks
On the negative side, these bags are expensive to manufacture.
Producing them requires more labour and resources than stand-up pouch bags. 
Most fertilizers are powder, so we need to use fertilizer bags for reasonable handling. Fertilizing is an essential process in agricultural production.  
Its physical properties are excellent in practical application. For example, its superior tensile strength can make the transportation process more convenient, and moisture resistance can make the preservation process more efficient. 
The cost of the large fertilizer bags must be relatively low, achieved through large quantity production and wide application in daily life. 
Fertilizer bags can be made in various grade materials to meet specific requirements. You may select the appropriate material, including environmental considerations, fertilizer types of preferences, and cost implications. 
Manufacturing Process at Chittor Polyfab
The strength of fertilizer bags depends on the construction of it, materials and usage. The design is in such a way that it holds the weight of the fertilizer and protects it from external elements. Generally, fertilizer bags are designed to be strong but still have limitations. It is important to use proper lifting and handling techniques with the bag to use its strength and durability, but overloading or miss handling can lead to damage. 
The capacity of a fertilizer bag depends on how much weight the bag can easily hold. It comes in a variety of different sizes, all depending on your requirement. 
1) Small bags which hold up to 6 kg. 
2) Standard bags hold up to 20 kg and are widely used in the industry. 
3) Large bags which hold up to 200 kg are mainly used for bulk storage. 
4) Customized: These bags are specifically for meeting your tailored requirements.
Unless miss handled or not stored properly, fertilizer bags are durable even in extreme environmental conditions or sunlight exposure. If the quality of the materials used and the construction technique is good, then durability is never a question. 
The safety of the fertilizer bags depends on their handling, storage and use of the fertilizers they contain. If you follow the safety instructions provided by the manufacturer, fertilizer bags are very safe to use. 
Which Businesses need fertilizer bags? 
The global fertilizer bags market held a market value of 25.19 billion US dollars in 2023, and one can expect it to push to roughly 42 billion US dollars by 2024. 
Fertilizer bags are utilized for warehousing and transporting many goods such as seafood, food, fruits and vegetables and other agricultural products, the most important being fertilizers. Companies in agriculture or horticulture and gardening excessively need fertilizer bags to store their goods and products. 
Safety precautions for fertilizer bags
While handling and storing fertilizer bags, taking a few safety precautions and avoiding potential hazards are important. 
Proper lifting techniques: it is important to have the appropriate technique while moving or lifting these fertilizer bags to avoid injuries. 
Inhalation: one should avoid breathing in the dust or fumes from the fertilizers. One can avoid this by wearing a mask or wearing PPE items. 
Ventilation: while handling fertilizer bags, you should be in a nice ventilated area to avoid inhalation of the fumes and dust from the fertilizers.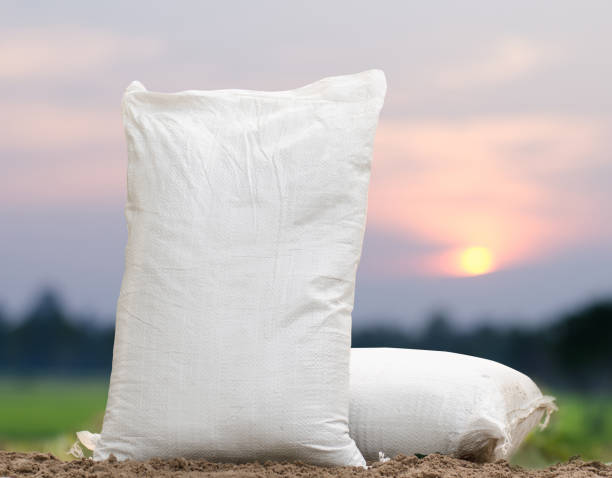 Different from AD STAR bags  
People make fertilizer bags from woven polypropylene or plastic materials constructed using a woven fabric structure, all the plastic material woven together. 
People make Ad Star bags from a multi-layered material called AD-STAR polypropylene fabric. People construct them using a lamination process involving fused fabric to create a bag. 
Even though both designs seem to be strong and durable, ad star bags are for more strength full, high tear resistance, puncture resistance and overall durability. 
The primary use for fertilizer bags is packaging and transporting fertilizers. Still, ad star bags have a broader range of applications, including various products like cement, chemicals, pet food and heavy industrial goods. 
Choose us for your industrial packaging needs and experience the difference of 28 years of expertise in the field. As a global leader in HDPE/PP/FIBC/BB woven sacks, we have earned the trust of our clients through consistent quality and supply. Our professional team with multi-dimensional abilities and state-of-the-art infrastructure guarantees efficient production and delivery. With affiliations and registered company names, we ensure seamless and uninterrupted service, making us the obvious choice for all your industrial packaging needs. These are some of the key features of our product: – 
100% Reusable 
Non-staining 
Durable 
Eco-friendly 
The inability to tear means that product loss is reduced or eliminated 
Simple to disinfect or clean 
Low in weight and bulk 
It's cheap and simple to manufacture 
Ventilated or impermeable (with laminated film) 
Very resilient to fatigue and fracture 
Able to withstand exposure to various chemicals without suffering damage. 
High heat resistance (melting point of 167 degrees Celsius).